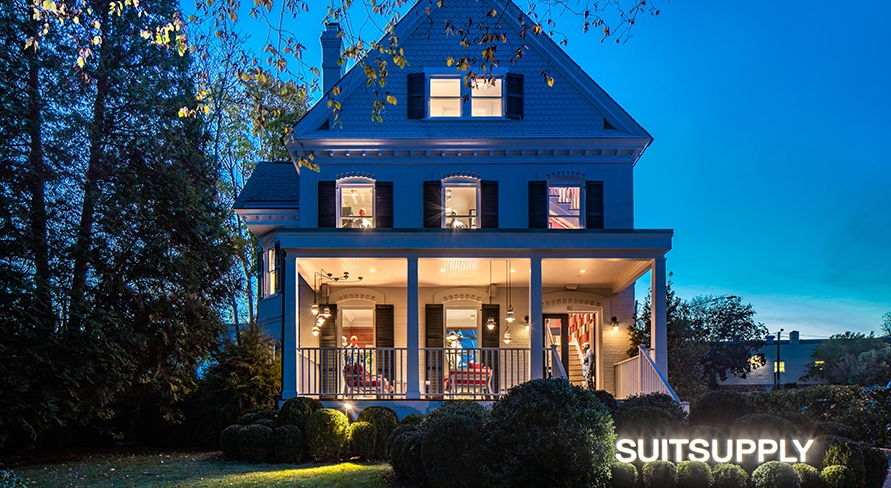 Fall 2016— Suitsupply, the globe-spanning European brand renowned for its focus on expertly crafted men's tailoring, will land in the shoreside town of Greenwich, Connecticut. Beginning in November, the residents of Greenwich will no longer have to make the trek to Manhattan for top-tier tailoring.
Located at 80 Mason Street, right off the main shopping stretch of Greenwich Avenue, the 6,200 sq. ft. space is situated in a historic building that dates back to 1880. The building's façade has been complemented with a new front porch, which, together with the colorful entrance, garden, and seating area, brings a peaceful, domestic feeling to the expansive, three-story interior. As for the threads themselves, the store offers all the classic Suitsupply accoutrements: a full collection of suits and casual tailoring for the weekend, and an on-site tailor for on-demand alterations—allowing everyone to leave with the perfect fit.
Suitsupply began in Europe in 2000. In an industry where fast fashion dominates and craftsmanship is fast disappearing, Suitsupply introduces a better option: one where no attention to detail or quality is ever spared. They have received widespread accolade from the likes of GQ, Esquire, and, perhaps most notably, a Wall Street Journal blind test that ranked a $600 Suitsupply suit in a first-place tie with a $3,600 Armani.
With an impeccable location among tree-lined streets, and an abundance small-town charm, Suitsupply can now offer to the people of Greenwich the perfect small-town shopping experience—even when they're dressing for the other end of the commute.
Watch the Greenwich store build
See details of Suitsupply Greenwich