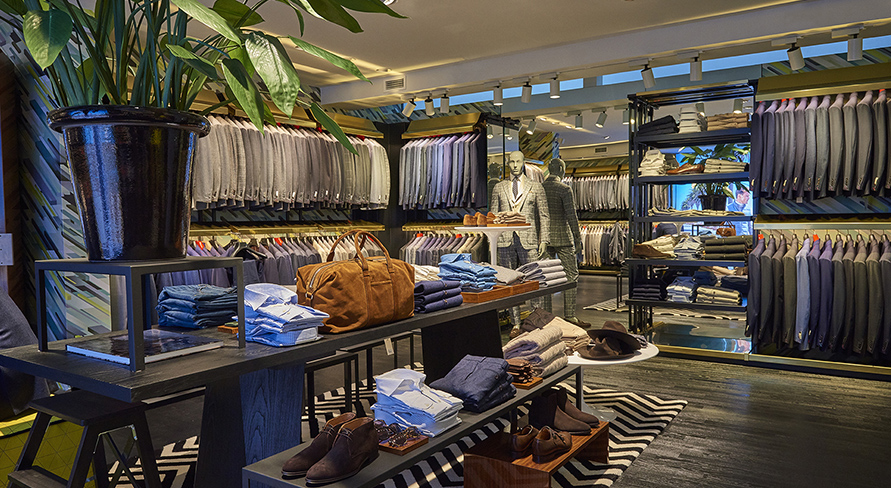 Fall 2016— This October, Suitsupply, the globe-spanning European brand renowned for its focus on expertly crafted men's tailoring, will hit the festive streets of Madrid. Suitsupply's first store in Spain is just the latest effort to bring top-tier tailoring to all corners of the world.
Located on the Calle Villanueva 20, near such hallmarks as Madrid's Museo Arqueológico Nacional and the beautiful Parque del Retiro, the new 350 square meter store is situated on a quaint, tree-lined street that nevertheless houses some of the world's premier fashion brands. The building's existing façade has been maintained to blend in with the classical appearance of the street, while the interior is a sun-spoiled happy place where high windows allow plenty of natural light, and a palette of yellow extends from the wallpaper to the furniture to the fitting rooms. The store itself offers all the classic Suitsupply accoutrements: a full collection of suits and relaxed tailoring for the weekend, and an on-site tailor for on-demand alterations—allowing everyone to leave with the perfect fit. It's a world of summertime bliss inside the eternally sunny city of Madrid.
Suitsupply began in Europe in 2000. In an industry where fast fashion dominates and craftsmanship is disappearing, Suitsupply introduces a better option: one where no attention to detail or quality is ever spared. They have received widespread accolade from the likes of GQ, Esquire, and, perhaps most notably, a Wall Street Journal blind test that ranked a $600 Suitsupply suit in a first-place tie with a $3,600 Armani.
Suitsupply has grown to 70 international stores in cities such as Milan, London, Zurich, Amsterdam, New York, Toronto, Shanghai and Singapore, and, in addition to their expanding brick-and-mortar locations, holds a very strong ecommerce presence, allowing them to bring that same high-quality tailoring and personal service to customers around the world. And with its first location in Spain, Suitsupply further expands its reach and coverage among the metropolitan centers of Europe.
See details of Suitsupply Madrid