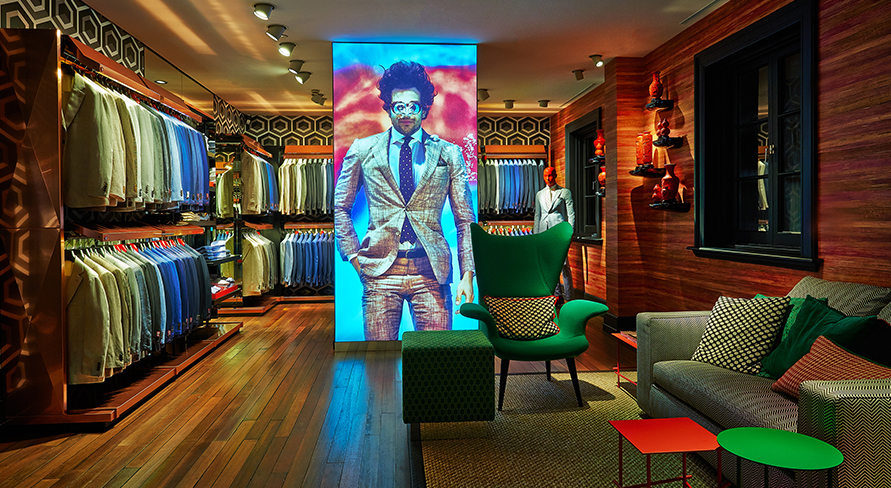 Summer, 2015 – Suitsupply, the European fashion brand, is opening its flagship mansion on Anfu road in the heart of the former French Concession in Shanghai.
Suitsupply creates an entirely new market in men's fashion that sets them apart from any other existing boutique. Their combination of the use of only the finest fabrics, European style, unbeatable in-store service and within an attainable price bracket is a revolutionary approach to men's fashion and leaves retailers asking "How do they do that?" and customers coming back for more. No attention to detail is spared and tailoring is done on-site and while-you-wait, allowing everyone to leave with the perfect fit and encouraging relationships to be developed with every new client.
At the center of formally called French Concession in Shanghai; Suitsupply was given the opportunity to carefully restore a historic building to its origin, which for over a century has been a symbol of the city's modern face and international stature. There, an old mansion, built in the French colonial style and once owned by a well-to-do Chinese family, has been almost completely reworked and renovated inside and out to create a state-of-the-art gentleman's estate, a seamless synthesis of new and classic, eastern and western, simplicity and opulence.
The space separates casual tailoring on the ground floor, suits in the second, with full array of Suitsupply's collection, from light weight three-piece suits to basic linen-blend fabrics in the summer. The third floor is dedicated to made-to-measure and evening wear. A private garden is wrapping around the mansion, in it is a beautiful summer house with a bar. So while the onsite tailor is working on your suit, you can enjoy a drink in the garden.
The mansion is again Suitsupply's unconventional approach to the men's fashion market were they stay away from the high streets or the shopping centers but create their own space. "A lot of Chinese men are well informed in fashion and style; they understand the quality of products beyond the usual logos. They appreciated the work and the soul that is put in to these products on its own merits. "Says Fokke De Jong the CEO of Suitsupply. The design of this store is also a expression of our Philosophy, though it is meticulously designed, it's inviting and accessible, you feel the freedom and fun we put into this mansion. The mansion is a mix of shopping, fashion and relaxing, and so a perfect fit with the character of Anfu road.
See details of Suitsupply Shanghai