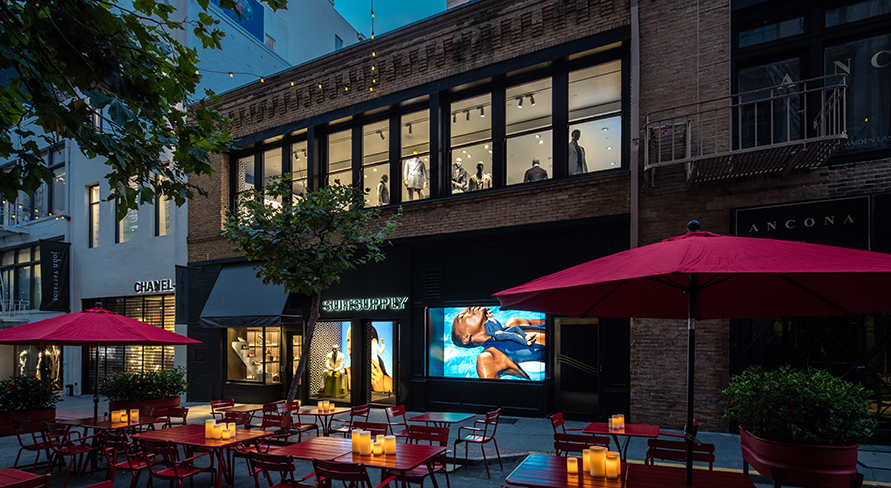 Summer 2016— This summer, Suitsupply, the globe-spanning European brand, renowned for its focus on expertly crafted men's tailoring, will finally arrive in one of America's great cities. Its first San Francisco location, the 19th Suitsupply store in America, is just the latest effort to bring top-tier tailoring that won't break the bank to all corners of the world.
Suitsupply began in Europe in 2000, selling suits with an intense focus on expert tailoring first and foremost, whose uncompromising quality and fit will make them the only suits a man needs in his closet, and have them coming back season after season. Since launching in the US in 2011, they have received widespread accolade from the likes of GQ, Esquire, and, many others—and perhaps most notably, a Wall Street Journal blind test that lauded a $600 Suitsupply suit as being indistinguishable from a $3,600 Armani.
And they're landing in style, with a sprawling, 5,000 square-foot space in San Francisco's hottest shopping district. The store is situated on Maiden Lane, a small street nestled away from the tourist-laden streets of Geary and Post—and yet, just two blocks away from Union Square—that is home to many historic high-end brands, for discerning shoppers who want a more intimate setting along with their haute couture finds. Inside, customers can expect the full array of Suitsupply's collection, from lightweight linen-blend fabrics in the summer to tweed three-piece suits in the fall. There's even an onsite tailor who will perform alterations on their new threads as customers wait. And, they'll be shopping and sitting alongside a selection of furniture and light fixtures by renowned mid-century designers, which, along with a café expansion coming later this year, will provide a calm and tastefully designed respite from the downtown bustle.
With this and its many other plans for growth, Suitsupply is bringing a new energy to the tailoring world. "We play around more with our styles," says Suitsupply founder Fokke de Jong. "I guess we don't take ourselves as seriously as many of our English and Italian colleagues. We don't really fit in, but we provide a perfect fit, and a pioneering spirit that I think is especially well understood in San Francisco. I know I always feel at home here."
See details of Suitsupply San Francisco